New Delhi: A Covid-19 infected patient rests on her bed inside a Covid care centre of the Commonwealth Games (CWG) village, in New Delhi, Tuesday, Jan. 4, 2022.
Today, Karnataka reported the maximum Omicron cases at 149. This has taken the state's tally to 226. In light of the rising Covid cases in the state, a weekend curfew has been imposed in the state. Delhi has also imposed a weekend curfew and has revised the metro and bus capacity to 100%. 
Just when the country may have thought that they had put their worst behind them, fear of an imminent third wave now looms large with a surge in new infections of Covid, and cases of the new Omicron variant of the virus, which is highly transmissible, might derail the recovery made in the last few months. Maharashtra continues to record the maximum Omicron cases followed by Delhi, Kerala and Gujarat. Meanwhile, several states have imposed restrictions and night curfew, to curb the spread of the infection.
Latest India News
All passengers coming to Jharkhand will have to undergo a mandatory COVID-19 test at the Ranchi Airport. As per the Airport authorities, this test will be free of cost. If a traveler is carrying a negative RT-PCR COVID-19 test report (not more than 72 hours old) or a certificate showing his/her 'fully vaccinated' status, then they will be exempted from the test
Seven new Omicron cases were reported in Andhra Pradesh today, taking the total number of cases to 24 in the state. One patient is mildly symptomatic and under hospital isolation. All others are healthy and are under isolation, said the Andhra Pradesh government.
Due to rise in Covid cases, the BCCI has postponed the start of the Ranji Trophy season slated to begin on January 13.
In a modified order released today, the BMC said that it will seal buildings in Mumbai if more than 10 patients in a building test positive for coronavirus. Earlier, the minimum number was 20, but after city recorded 10,860 cases today, the decision was revised.
Agra mayor Naveen Jain has tested positive for COVID-19 and has gone into self-isolation, an official said Tuesday. The district reported 23 fresh COVID-19 cases Tuesday and the total number of active cases now stands at 113, according to data released by the Agra administration.
The mayor's Public Relation Officer (PRO) said Jain tested positive for COVID-19 on Tuesday and is into isolation. The districts has a recovery rate of 97.79 percent and a case fatality rate of 1.77 percent, the data showed.
On the precipice of a third wave of Covid infections, a large number of doctors and paramedics in Delhi are turning out to be Covid positive which might put the city's health infrastructure under severe strain, experts said on Tuesday. At least 50 doctors have tested Covid positive at AIIMS in Delhi while 26 have been diagnosed with the disease at the Safdarjung Hospital, officials said.
Forty-five healthcare workers, including 38 doctors, have contracted Covid at the Ram Manohar Lohia Hospital in the last few days, according to an official. At the North Delhi Municipal Corporation-run Hindu Rao Hospital at least 20 doctors have contracted Covid while at the Delhi government-run Lok Nayak Hospital it is seven, sources said.
MP records 308 new COVID-19 cases, 1 death; active tally tops 1,000
Maharashtra reports 18,466 new cases & 20 deaths today; Active cases 66,308. Omicron case tally reaches 653, of these 259 have been discharged
West Bengal reports 9,073 new cases, 3,768 recoveries and 16 deaths today. Active cases 25,475
Gujarat in the last 24 hours registered 2,265 fresh Covid cases out of which alone Ahmedabad reported 1,314 infections.
Keeping in view the rising number of cases of the Omicron variant of COVID-19, the Kerala government on Tuesday issued a slew of directions to contain its spread, including restricting the number of attendees to various cultural and social functions.
The COVID-19 evaluation meeting, chaired by Chief Minister Pinarayi Vijayan, has decided to restrict the number of people who can attend marriages, funerals, political, social and cultural events in a closed room to 75.
The Chief Minister's Office said the number of people who can attend such functions in open areas have been limited to 150.
"The testing for symptomatic people who come from other countries will be strengthened. Currently, there are 181 Omicron cases in the state,"  the CMO release said.
During the meeting, the Chief Minister also asked the officials to expedite action on applications for financial assistance to those families that suffered COVID-19 deaths.
The release also stated that 80 per cent of people in Kerala have received COVID-19 vaccination. It also said two per cent of the 15.43 lakh students in the state also received inoculation.
All private hospitals and nursing homes in Delhi with 50 beds or more to reserve at least 40% of their total bed capacity for Covid-9 patients, Delhi government informed on Tuesday.
Mumbai registered 10,860 fresh Covid cases including 2 deaths in last 24 hours. The active cases in the city are now at 47,476.
Congress leader Randeep Singh Surjewala tests Covid positive.
Taking to Twitter, Surjewala said, "after experiencing symptoms like mild fever and cold last night, I got myself tested and am Covid positive. I would request everyone who came in contact with me over the last 24 hours to take appropriate precautions and get themselves tested."
Andhra Pradesh registered 334 fresh cases on Tuesday, the highest in a day after November 10, 2021. Consequently, the number of active Covid-19 cases shot up to 1,516, an increase of 238 in a day. The state had recorded 122 new cases yesterday.
The state reported 95 recoveries and one death in the 24 hours ending 9 am today, according to the latest bulletin.
The cumulative Covid-19 positive cases climbed to 20,77,942, recoveries to 20,61,927 and deaths 14,499, the bulletin said.
Visakhapatnam district appears to be emerging as the latest hotspot as it reported 80 fresh cases in a day.
The district now has 306 active cases, the highest in the state.
"19 cases including 14 students found positive for Covid-19 at North Bengal Medical College and Hospital. It is quite alarming," said Dr Sanjay Mallick, Medical Superintendent and Vice Principle, North Bengal Medical College and Hospital.
 
Uttarakhand Health Secretary Dr Pankaj Kumar Pandey tests positive for Covid.
66 passengers onboard Cordelia cruise tested positive. Of these, 6 people disembarked in Goa, rest 60 have returned to Mumbai today. All passengers on-board the ship will undergo RT-PCR test, their results will be out by 7 am tomorrow, said Prajakta Ambrekar, Medical officer, BMC.
Passengers who test positive will be kept under isolation on-board Cordelia ship, their samples will be sent for genome sequencing. Passengers who test negative will undergo 7-day mandatory home quarantine. The 60 positive passengers will be kept under institutional quarantine, BMC added.
Around 41 students of DMC's nursing college in Ludhiana have been found Covid positive. Out of positive patients, 23 have been admitted to an adequate facility, Ludhiana CMO Dr SP Singh said.
In the wake of the rise in coronavirus cases in Chhattisgarh, Chief Minister Bhupesh Baghel on Tuesday ordered a ban on rallies, processions and other kinds of public events across the state. A night curfew from 10 pm to 6 am will also be implemented, CM's office said.
The ban has been imposed on processions, rallies, public gatherings, social, cultural & sports events in every district.
Random testing for COVID-19 at railway stations & borders of the state will be conducted. Daily reporting of hospital beds, stock of medicines, and availability of oxygen will also be done, CMO Chhattisgarh informed.
In districts with a positivity rate of 4% or more all schools, anganwadi centers, libraries, swimming pools, malls, cinemas, marriage palaces, hotels, restaurants, auditoriums should be closed.
Kerala reported 3,640 new cases, 30 deaths, 2363 recoveries in the last 24 hours. The active cases in the state stand at 20,180, death tally at 48,637.
423 deaths were added to the death tally as per the new guidelines of the Central government, the Kerala government informed in an official statement.
All passengers coming to the Jharkhand need to undergo a free Covid-19 test on arrival at the airport. If a traveller is carrying a negative RTPCR report (within 72 hours)/full vaccination certificate (at least 15 days earlier), then they'll be exempted from RT-PCR test, Ranchi Airport informed.
Uttarakhand reports 310 new cases, one death, 111 recoveries on Tuesday. Active cases in the state currently stand at 654.
Cordelia cruise with 66 Covid-19 positive passengers will return to Mumbai tonight. A team of Brihanmumbai Municipal Corporation will conduct screening of passengers on arrival.
 
Karnataka Health Minister Dr Sudhakar K in a tweet said that the data shows us cases are doubling every 2-3 days in the state. While the government is working on containment measures for the new wave, they appeal to everyone to strictly follow 3Ms: 
He also informed about the positivity rate which rose to 2.59% with 2,479 new cases reported on Tuesday.
With the coronavirus cases rising across the country, Uttar Pradesh Deputy Chief Minister Dinesh Sharma Tuesday said the state government is already prepared to deal with the third wave of the pandemic.
"We have given instructions to all to follow the Covid guidelines in letter and spirit and have started the process to expeditiously vaccinate schoolchildren," he told reporters.
He was in the city to attend the fourth convocation of Professor Rajendra Singh (Rajju Bhaiya) University as the special guest.
On the coronavirus vaccination drive in the state, he said about 86 per cent of the eligible population has been inoculated so far.
Delhi government issues an action plan for smooth running and real-time monitoring of oxygen supply in Delhi. Telemetry devices are being installed on oxygen tanks of 53 government and private hospitals in the city. Live monitoring will be done through the government's COVID War Room.
In Punjab, non-essential movement will be banned from 10 pm to 5 am. If night curfew is violated, then legal action will be taken. The principle of 'No mask, no service' will be followed. All health workers have to report to their respective duties, said Amritsar Deputy Commissioner.
Delhi reports 5,481 new Covid cases and 3 deaths in the last 24 hours. Active cases in the city surge to 14,889 while positivity rate rises to 8.37%.
We're of the view that if any government employee dies due to COVID or any other mishap, his/her family member should be provided with a job. But this right has been snatched from us. Tell Amit Shah, LG Anil Baijal to give us our right, said Delhi Deputy CM Manish Sisodia in Assembly.
 
Patna on Tuesday recorded 522 cases of coronavirus, a huge rise in cases in 24 hours. On Monday, entire Bihar had reported little over 300 cases.
Dr. Anthony Fauci, the top U.S. infectious disease expert, is looking ahead to controlling the virus in a way "that does not disrupt society, that does not disrupt the economy."
More than 1 million people in the U.S. were diagnosed with Covid-19 on Monday as a tsunami of omicron rampages through America.
 
We seem to be at beginning of the third wave. Although cases are rising, the mortality rate is still very low. The third wave won't be as severe as the second wave, said Dr. S Chandra, Consultant Physician, Internal & Travel Medicine, Helvetia Medical Center, Delhi.
Omicron will become dominant strain which is not a bad thing considering the fact that its symptoms are less severe. The reason we get infected even after getting vaccinated is that the vaccine may not be effective enough against Omicron strain due to its mutations, Dr. S Chandra added.
Symptoms mostly seem to be mild & moderate in Omicron patients. The symptoms are reduced within 3-4 days in such patients… Vaccination reduces the severity of the disease, he further mentioned.
A new Covid-19 variant 'IHU' has been discovered in France which is being seen as more infectious than Omicron.
The Delhi Disaster Management Authority (DDMA) on Tuesday decided to impose weekend curfew in the national capital in view of the surge in Covid cases driven by the fast-spreading Omicron variant, sources said. They said government employees, barring those engaged in essential services, will be asked to work from home.
Private offices will remain open with 50 per cent capacity.
Delhi on Monday reported 4,099 fresh COVID-19 cases and the positivity rate spiralled to 6.46 per cent, with Health Minister Satyendar Jain saying the Omicron variant of coronavirus is behind the surge in infections in the city and more restrictions will be implemented if the bed occupancy rate goes up.
Mumbai Mayor Kishori Pednekar has said that the government will have to impose lockdown in Mumbai if daily Covid cases cross the 20,000-mark. 
Amid a rise in Covid cases, Delhi is likely to impose weekend curfew.
At least 72 more doctors of the Nalanda Medical College and Hospital in Patna have tested positive for Covid-19. With the fresh infections detected on Monday night, a total of 168 doctors and PG medical students have tested positive for the virus in the last three days. Samples of 153 doctors of the NMCH were taken, of which 72 tested positive.
India recorded 1,892 fresh cases of the Omicron variant while 766 people recover from the infectious disease in the last 24 hours. A look at state-wise data of Omicron cases.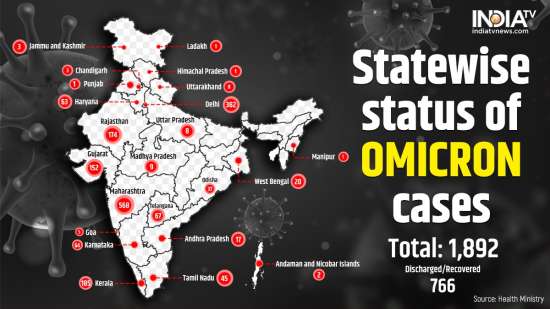 State-wise data of fresh Omicron cases in the country. 
 
"Delhi Chief Minister Arvind Kejriwal has only mild symptoms. Covid reaching the CM is not a big deal, but spreading among the people is a matter of concern. We need to be extremely cautious," Delhi Health Minister Satyendra Jain said.
The Cordelia cruise ship, where 66 of them over 2,000 people on board tested positive for coronavirus, has been sent back to Mumbai from Goa with all the passengers after some of the infected persons refused to get admitted to a medical facility in the coastal state, an official from a shipping agency said on Tuesday. | Read More
Long serpentine queues of commuters seen outside Saket Metro Station as passenger limit has been capped due to rise in Covid cases in Delhi.
However, people are facing problems due to new rules. Facing commuting issues, a commuter said, "Govt is running the metro at only 50% seating capacity. The decision has surely prevented crowding inside trains & stations. But what about the crowd gathered outside?"
AIIMS, Delhi cancels the remaining part of winter vacation from January 5 to January 10; asks faculty members to join duty 'with immediate effect' as Covid cases rise in the country.
Parents who do not have smartphones are struggling to get their ward study following closure of schools in Mumbai amid rise in Covid cases.
One such parent said, "I didn't know the school was shut. I don't have a phone so my child could not attend online classes, hampering his studies."
Punjab government has imposed night curfew from 10 pm to 5 am amid concern over the third Covid wave following the omicron outbreak | Read More
BJP MP Manoj Tiwari has informed that he has tested positive for Covid-19.
Union Minister Mahendra Nath Pandey diagnosed with COVID-19
 
Delhi Chief Minister Arvind Kejriwal today confirmed that he has tested positive for COVID-19.
Here's the full report
A total of 1,892 cases of Omicron variant of coronavirus have been detected across 23 states and Union Territories so far, out of which 766 have recovered or migrated, according to the Union health ministry's data updated on Tuesday.
Maharashtra has recorded the maximum number of 568 cases, followed by Delhi (382), Kerala (185), Rajasthan (174), Gujarat (152), and Tamil Nadu (121).
India's Covid tally rose to 3,49,60,261 with 37,379 new cases, while the active cases increased to 1,71,830, according to the data updated at 8 am.
The death toll climbed to 4,82,017 with 124 more fatalities, the data showed.
The active cases comprise 0.49 per cent of the total infections, while the national COVID-19 recovery rate was recorded at 98.13 per cent, the health ministry said.
Ticket windows for a visit to the Taj Mahal in Agra have been closed in view of rising number of Covid cases.
Visitors can now book tickets online for a visit to the monument.
The Archaeological Survey of India has given the facility of online booking. However, inside the Taj Mahal, the counter on the jasmine floor under the main dome will be operational to buy an additional ticket of Rs 200.
Citing the Covid protocol, the ASI has closed the counters after tourists were flouting protocols by neither wearing masks nor following proper physical distancing.
Two prisoners and six staffers at the high-security Tihar Jail in the national capital have tested positive for Covid-19, a top official said on Tuesday.
Director General (Prisons) Sandeeep Goyal told IANS that none of the infected people were critical, adding: "No one is serious."
Delhi Prisons has three complexes, one at Tihar being one of the largest prison complexes in the world comprising nine central prisons; and second is Central Prison at Rohini Prison Complex; and third one is Mandoli Prison Complex having six Central Jails.
Goyal informed that no positive cases were reported in the Rohini and Mandoli jails so far.
India reports 37,379 fresh COVID cases, 11,007 recoveries, and 124 deaths in the last 24 hours
Daily positivity rate: 3.24%
Active cases: 1,71,830
Total recoveries: 3,43,06,414
Death toll: 4,82,017
Total vaccination: 1,46,70,18,464
Full Report Here
DCGI's Subject Expert Committee (SEC) to meet today to examine Bharat Biotech's application for the use of its intranasal COVID vaccine as a booster shot, say sources
Delhi Chief Minister Arvind Kejriwal has tested positive for COVID-19
Full Report Here
Botswana's President Mokgweetsi Masisi is in mandatory self-isolation at his official residence in Gaborone after testing positive for Covid-19, his office announced on Monday.
Masisi's mandatory self-isolation is necessitated by having tested positive for Covid-19 following a routine test for the virus, John Dipowe, the acting permanent secretary in the Botswana government communications, said in a statement, Xinhua news agency reported.
With the Covid positivity rate in Delhi rising to 6.5 per cent in the last 24 hours, the Delhi Disaster Management Authority (DDMA) is deliberating over strengthening the already existing restrictions to curb the spread of the virus, including of the new variant Omicron.
Under the Graded Action Response Plan (GRAP), of the DDMA, it is decided as to which activities would be allowed under what circumstances in case of a surge in Covid-19 cases.
The DDMA, on December 29, said that it would continue the restrictions imposed under the 'yellow' alert. Under the yellow alert, the night curfew is imposed from 10 p.m. till 5 a.m. morning.
One more person died from coronavirus in Punjab on Monday as 419 fresh cases surfaced, taking the state's infection tally to 6,05,922, according to a medical bulletin. So far, 16,651 people have died from the infection in the state.
The death count also included two deaths which were not reported earlier. Punjab has been witnessing a rise in the number of infections for the past a few days.          
The number of active cases rose to 1,741 from 1,369 a day before.          
  
Of fresh cases, Patiala reported 143 infections, followed by 58 in Pathankot, 57 in Ludhiana and 30 in Mohali.          
Uttar Pradesh reported 572 coronavirus cases in the past 24 hours, which pushed the state's infection count to 17,13,107, a senior official said on Monday. No death was reported from the state.
According to a statement issued by the Health Department, 130 cases were reported in Ghaziabad, 101 in Gautam Buddh Nagar, 86 in Lucknow, 49 in Meerut and 33 in Agra.
On Monday, the active case count stood at 2,261.
West Bengal on Monday registered 6,078 new Covid-19 cases, 75 less than the previous day's figure, pushing the tally to 16,55,228, the health department said. The death toll also went up to 19,794 after 13 more people succumbed to the disease in the last 24 hours, the department said in a bulletin. The state on Sunday had recorded eight Covid-19 fatalities.
Altogether 2,917 coronavirus patients have been discharged from various hospitals in the state. The discharge rate dipped slightly to 97.58 per cent from Sunday's 97.77 per cent.
The number of active cases is 20,186 now, 3,148 more than what it was on Sunday.
In the last 24 hours, 31,030 samples have been tested for Covid-19 in West Bengal taking the total number of such clinical examinations to 2,14,99,077, the bulletin said.
At present there was no proposal to put any restrictions on suburban train travel in Mumbai, a senior civic official said on Monday as the city records a surge in new coronavirus cases. Suresh Kakani, additional municipal commissioner, said though the number of daily COVID-19 cases and positivity rate have been increasing in the city, the Brihanmumbai Municipal Corporation (BMC) was working on preventive measures and was ready to handle any crisis.
Talking to the media, he said at present there was no proposal to put any curbs on suburban train travel.
If needed, the Maharashtra government will take a decision on the issue in consultation with the state task force on COVID-19 as it pertains to the entire Mumbai Metropolitan Region (MMR), Kakani said.
Arizona health officials on Monday reported the highest number of new COVID-19 cases in a year. The 14,192 new cases were the most ever tallied in a day except for Jan 3, 2020, when more than 17,000 cases were counted.
The state Health Services Department said the new case count was boosted by lower than normal reporting on Sunday, when just 701 new cases were reported. However, the state said there has been a steep upward trend of cases in recent days.
According to Johns Hopkins University data, the seven-day rolling average of daily new cases in Arizona has risen sharply over the past two weeks from 2,945 new cases per day on Dec 18 to 5,051 new cases per day on Jan 1.
Starbucks says its US workers must be fully vaccinated by Feb 9 or face a weekly COVID testing requirement. The Seattle-based coffee giant said Monday it was acting in response to the Occupational Safety and Health Administration, which issued a vaccine-or-test requirement for companies with more than 100 employees in November.
The requirement, which has faced numerous court challenges, was upheld last month by a three-judge panel with the US Court of Appeals. The Supreme Court is scheduled to consider the requirement on Friday.
Starbucks is requiring its 228,000 US employees to disclose their vaccination status by Jan 10.
All schools in Canada's most populous province will be shut down and move to online learning because of a record number of coronavirus infections fuelled by the ultra-contagious omicron variant, Ontario's premier has announced.
Premier Doug Ford on Monday also announced the closure of indoor dining. Gyms and cinemas will also close and hospitals have also been told to pause all non-urgent surgeries.
Ontario is locking down again, unlike the US cities and states. Like the many US, Ontario is seeing record new infections. Ford pointed to projections showing the total number of patients in hospitals would exceed capacity within a few weeks as Omicron is expected to tear through the population.
Cruise ship activity has been temporarily suspended along Brazil's shores until Jan 21 due to the spread of the coronavirus' omicron variant, according to a statement the federal government published Monday night. The decision came after a recommendation from the nation's health regulator, which said in a separate statement Monday night that it took into account the "spiralling increase of COVID-19 cases on board ships in recent days, which indicates a radical change in the epidemiological scenario".
The agency highlighted an "accentuated explosion" starting Dec 26, with almost 800 cases detected on cruise ships in just nine days — 25 times the total seen over the prior 55 days and likely stemming from spread of the omicron variant, it said.
Schools and colleges in Goa have been closed for physical sessions, in wake of the rising COVID-19 cases across the country. Authorities held a meeting of the COVID-19 Task Force on Monday to review the situation in the state.
A member of Task Force, Dr Shekhar Salkar said to ANI, "After the meeting of the COVID Task Force, it has been decided to close physical sessions for classes 8 and 9 till January 26. Students of classes 10 to 12 have to come only for the vaccination. Colleges will also remain closed till January 26."
Pakistan has reported 708 new COVID-19 cases in the last 24 hours with a positivity rate rising up to 1.55 per cent, National Command and Operation Centre (NCOC) said on Monday.
"Statistics 3 Jan 22: Total Tests in Last 24 Hours: 45,643 Positive Cases: 708 Positivity %: 1.55% Deaths: 2 Patients on Critical Care: 642," the NCOC said in a tweet.
As many as 30 persons of an Ashram school in Bhiwandi tested positive for COVID-19 on Monday.
Thane Municipal Corporation, in its notification, said, "30 persons including 28 students and 2 staff members of an Ashram school in Bhiwandi have tested positive for COVID-19."
Meanwhile, Maharashtra reported 12,160 fresh COVID-19 cases and 11 deaths in the last 24 hours, informed the state health department on Monday. 
Brihanmumbai Municipal Corporation (BMC) has issued fresh guidelines for sealing of the buildings in Mumbai wherein the whole building or a wing shall be sealed if more than 20 per cent of the occupied number of flats in the building or wing has COVID-19 patients.
The guidelines shall come into effect from today, that is January 4, 2021.
"With the continuous threat of rising cases of COVID-19 in the city of Mumbai in the past few days and detection of Variant of Concern (VoC) Omicron suggesting an increase in transmissibility, earlier guidelines issued on March 1, 2021, for sealed buildings stands revised," the order copy said.
Schools and educational institutions in Telangana will remain closed from January 8 to January 16, Chief Minister's Office informed on Monday.
"Telangana CM K Chandrashekar Rao has directed all educational institutions in the state to declare a holiday from January 8 to January 16," the CMO said.
This decision was taken at a meeting convened by Chief Minister K Chandrashekar Rao to review the pandemic situation in view of the COVID-19 cases rising sharply in Telangana.
Top News
Shiv Sena wasted 25 years in alliance with BJP: Uddhav Thackeray says never used Hindutva for power
Aditya Narayan confirms Shweta Agarwal is pregnant, couple to host godhbharai ceremony soon
IND vs SA 3rd ODI: India lose by four runs, suffer 0-3 whitewash vs South Africa
National Girl Child Day 2022: History, theme and significance | All you need to know
Hilarious memes comparing Vamika to Taimur take over Internet: 'Hum Bhi famous hua karte the'
Centre to release Rail Budget 2022 on Feb 1 | Here's what to expect
5 Mobile Games which gained popularity over the past two years
Latest News
Opinion | How criminals in UP are back in the electoral fray?
Hilarious memes comparing Vamika to Taimur take over Internet: 'Hum Bhi famous hua karte the'
Aditya Narayan confirms Shweta Agarwal is pregnant, couple to host godhbharai ceremony soon
IND vs SA: KL Rahul blames rash shot decision-making reason behind 0-3 series loss
© 2009-2022 Independent News Service. All rights reserved.
UP Election 2022: Which party will win most votes in Chandpur? | Public Opinion
Today Horoscope, Daily Astrology, Zodiac Sign for Monday, January 24, 2022
Super 100: Watch the latest news from India and around the world | January 24, 2022
Haqikat Kya Hai | CM Yogi holds door-to-door campaign in Ghaziabad
Kurukshetra | PM Modi unveils Netaji Subhas Chandra Bose's hologram statue at India Gate
Assembly Election 2022 LIVE Updates: BJP holds core committee meet to discuss more UP candidates
UP polls: EC's norms flouted during Amit Shah's door-to-door campaign, alleges SP
BJP eyeing two-third majority in upcoming assembly polls: Manipur CM
Who is Dharmendra Pratap Singh, India's tallest man who joined SP?
Punjab polls: Amarinder calls Sidhu incompetent, says he has 'no brains'
Shiv Sena wasted 25 years in alliance with BJP: Uddhav Thackeray says never used Hindutva for power
India logs 3.06 lakh new Covid cases, 439 deaths in a day; positivity rate climbs to 20.75%
Dense fog engulfs Delhi-NCR; another cold spell over northwest India likely from today
COVID-19 is heading towards 'endemic', says AIIMS senior epidemiologist
Over 21,900 families who lost member to Covid given Rs 50,000 ex-gratia: Delhi govt
US orders families of Ukraine embassy staff to leave country amid fears of Russian invasion
'Will be more dangerous if..': Pakistan PM Imran Khan's warning to Opposition
Omicron will soon replace Delta globally due to 'immunity evading potential': WHO
My 'Muslim woman minister' status was making colleagues uncomfortable, says sacked UK lawmaker
Omicron cases surge: New Zealand PM Jacinda Ardern cancels her wedding
IND vs SA 3rd ODI: India lose by four runs, suffer 0-3 whitewash vs South Africa
IND vs SA: KL Rahul becomes 1st to lose 3 consecutive matches on India captaincy debut
Women's Asian Cup 2022: India out of title run after match vs Chinese Taipei called off due to COVID
Women's Hockey Asia Cup 2022: Holders India stunned 0-2 by Japan
PV Sindhu wins Syed Modi International badminton title
Aditya Narayan confirms Shweta Agarwal is pregnant, couple to host godhbharai ceremony soon
Pushpa fever takes over cricket: After David Warner, Suresh Raina dances to Allu Arjun's 'Srivalli'
Light bulb blasts in front of Sara Ali Khan's face as she gets her makeup done, watch video
Anushka Sharma, Virat Kohli's daughter Vamika's first photo goes viral; here's how fans are reacting
Priyanka Chopra, Nick Jonas 'want more kids', shares couple after welcoming baby via surrogacy
Centre to release Rail Budget 2022 on Feb 1 | Here's what to expect
Increase regulatory focus on cryptocurrency: Pre-Budget survey
'Some bright spots, number of very dark stains': Raghuram Rajan on Indian economy
India emerges as world's largest exporter of cucumber, gherkins
Union Budget 2022: Indian startups seek friendly policies, tax incentives
5 Mobile Games which gained popularity over the past two years
E-commerce Logistics Industry Expected to Grow to ₹492.8 billion by 2025
Nokia G21 expected to Launch in India soon, with 50-Megapixel Triple Rear Camera
Jio surpassed BSNL, becomes Largest Wired Broadband Provider with 4.34 Million Subscribers: TRAI Rep
OPPO Reno7 Pro 5G set to launch on Flipkart with Sony IMX709 and IMX7 sensors for cameras
Shraddha Kapoor sets bridesmaids outfit goals in chic lavender gown at best friend's wedding| PICS
Deepika Padukone sets Internet ablaze with her bold looks in red latex dress | PICS
Puneeth Rajkumar, Sushant Singh Rajput, Irrfan: Actors whose posthumous projects are OTT releases
Happy Birthday Kim Sharma: Adorable pictures of actress with Leander Paes
10 famous celebs who have been unlucky in marriage more than once
Omicron patients below 60 years can take paracetamol: Expert
COVID and Pregnancy: What are the risks? How can virus impact the to-be-born
What is juvenile rheumatoid arthritis: Know symptoms, treatment and home remedies
Sputnik V shows strong protection against Omicron, claims study
What is panic attack, its symptoms and how can you help a person suffering from it
Hyderabad Traffic Police use Nandamuri Balakrishna Akhanda scene to drive home message on seat belts
Hilarious memes comparing Vamika to Taimur take over Internet: 'Hum Bhi famous hua karte the'
Jimmy Kimmel compares K-pop band BTS' stardom to COVID, angry ARMY slams him for 'racist' comment
Australian cricketer David Warner gets Pushpa fever, pulls off Srivalli hook step. Allu Arjun reacts
Supriya Sule shares pics from Ambani's family function featuring Tina, Anmol and fiance Khrisha